Hezekiah Wampler [hg3-30],
Grand Old Man of Gosport, Indiana

Section 1.7.D

Last update: 09/20/11
---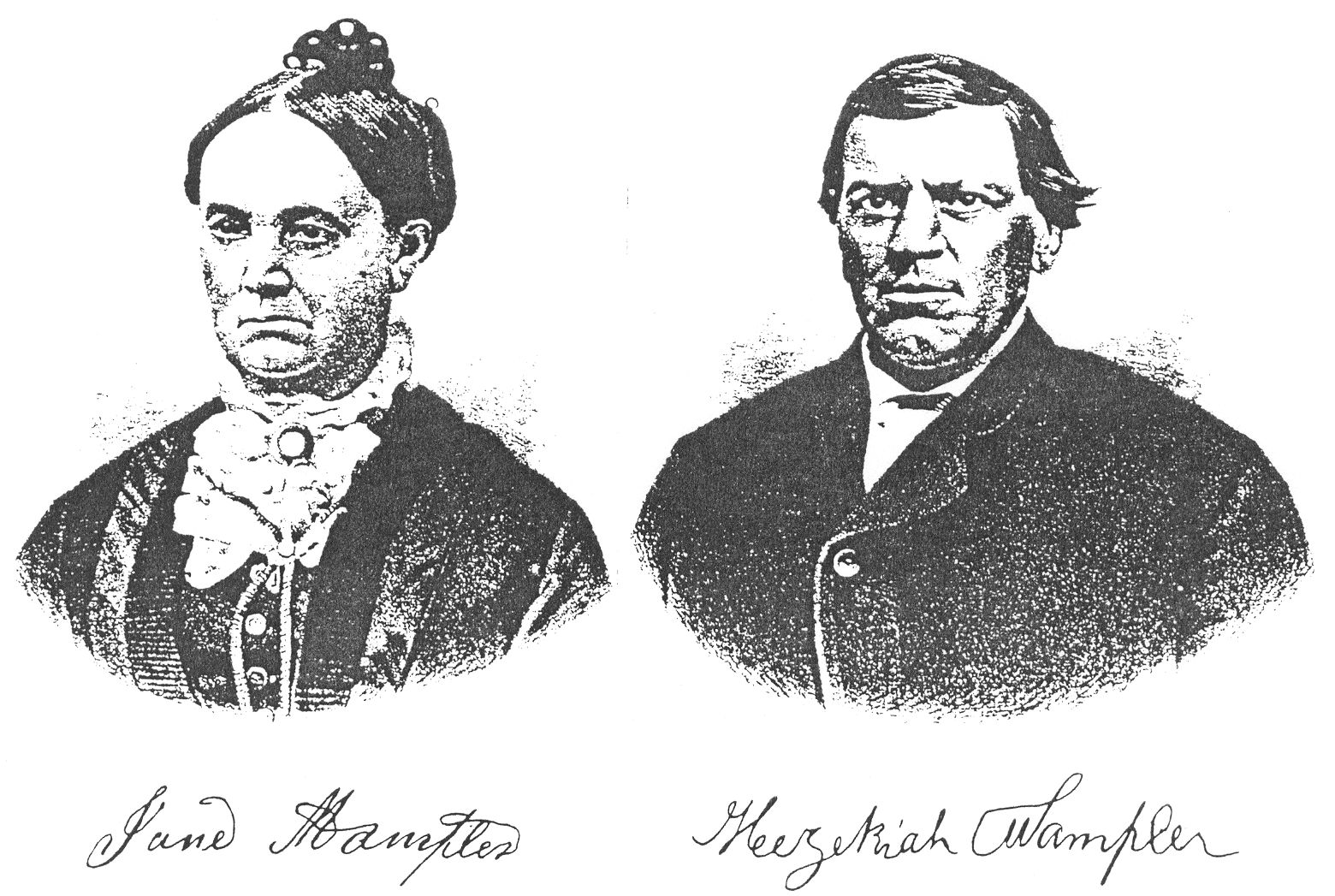 Hezekiah Wampler was born June 12, 1805, in Wythe County Virginia. When Hezekiah was 15 years old his family moved to a farm near Bloomington Indiana. His father, Joseph Wampler was born in Pennsylvania (1774) moving to what is now Wythe County Virgina with his father, Hans George Wampfler, in 1783. At twenty three Joseph married Esther Kinser. The Grandfather, Hans George, was one of the 1741 immigrants from Hinsingen, Alsace, who came to the colonies on the ship Lydia from Roterdam. Hans George died in 1815 as a weathy man and his estate was equally distributed amoung his children. This inheritance probably funded the move around 1820 of Joseph and his brother Henry with their families to Indiana.

These families (Henry's & Joseph's) were some of the very first settlers in the area. Quoting from the book "History of Morgan, Monroe and Brown Co., Ind" (in Barbara Wampler's Journal #3):
The first man to settle permanently upon the present site of the city of Bloomington cannot be named with absolute certainty. Neither can the time of this first settlement be given. The first entries of land were ... Henry Wampler was number 5 of the first 8.
This was apparently in April of 1818 and there are several records of other purchases by Henry from 1816 onward.

Indiana had become a state in 1816 with a then population of 63,897. Parts of Monroe County had been surveyed in 1812, but were not available for purchase until 1816. In 1820 the Federal Government changed the terms for purchases of federal lands, reducing the minimum purchase by half to 80 acres and reduced the price from $2 to $1.25 per acre. Hezekiah's father, Joseph, may have made a purchase of federal lands, but I could find no record of it. His brother Henry did make an early purchase in Township 9 North, Range 1 west (1816); Bloomington Township, Sections 6 and 32 (1816); and Richamond Township (1817). Henry made other purchases in the area from then through the 1820's.

Family histories indicate that after Joseph's health began to fail he could not make his land payments. Since Federal Land purchases after 1820 require full payment at purchase, it seems likely that their farm was purchased from a private party.

The young Hezekiah went to district schools in Monroe County and worked on his father's farm until he was about 21 years old. He then went to work for a distillery near Bloomington. About this time, his father's health began to fail and Hezekiah took on his father's debts including the payments on the farm. About 1830, he and his brother David opened a "combined liquor store." In 1831 they bought over six acres of land adjoining the town of Mt. Tabor. David operated a tannery and Hezekiah began his pork packing and shipping business. In 1845, Hezekiah bought two lots in the town of Mt. Tabor. By the time of Joseph's death in 1848, Hezekiah had paid for the farm and had a successful general merchanise store in Tabor (Monroe County) and a thriving shipping business.

Hezekiah was married twice. He and his first wife, Sarah Hartsock Godsey, had one daughter, Esther Elizabeth. Sarah and Hezekiah were wed on April 1, 1832, and their daughter was born in December (the 27th) of that year. Sarah died soon after their daughter was born. Sarah was buried in Bean Blossom Township, presumably at or near the town of Tabor.

At that time in the history of Indiana, commerce was done via the rivers. Hezekiah obtained his goods for the Tabor store from Louisville and began the business that would make his fortune using flatboats to carry cured pork down to the White River, south to the Wabash and on to New Orleans. Again, quoting the History book notes from Barbara S. Wampler's journal #3:
It is said that Hezekiah Wampler shipped the first boat load of pork, grain and provisions down the river about 1836.
In 1829, two early settlers of the area purchased a White River site which had been use to launch flatboats on the river. They laid out lots and had them recorded. The village they established became Gosport named after one of the partners, Ephriam Goss. The other partner was Abner Alexander. It seems likely that Hezekiah became aquainted with Abner and his family during the period when he was developing his pork packing and shipping business. In 1840, Hezekiah married Abner's daughter Jane and sometime thereafter they moved to Gosport where Hezekiah continued his business. That move was probably before March 1843 when an infant daughter of Hezekiah and Jane was buried in Wayne Township, Owen County.

Dixie Kline described how Hezekiah developed his pork packing business as follows:
Hogs were rounded up in all directions as Mr. Wampler traveled as much as 50 miles ... buying them. He [then] drove them back to Gosport, all on foot -- Wampler and the live stock. The hogs were kept until fall when they were slaughtered, salted down and then packed aboard the flatboats which were built during the winter. When the spring brought high waters, the boats were launched and set out for New Orleans.
Jane and Hezekiah had nine additional children. In the 1850's Hezekiah and Jane built a large brick home and another two story building in Gosport using bricks that Hezekiah had baked. He became a prominent citizen of Owen County taking an active part in civic activities.

Another interesting anecdote in the Dixie Kline story reveals Hezekiah as a shrewd and clever businessman:
Wampler issued his own paper currency used in all his payment, and honored and accepted everywhere because of his outstanding reputation as an honest businessman. Some Green County men and others, it was told, planned to collect all the outstanding currency they could find, confront him with it, and demand immediate payment. They came to call on him at Gosport with a large amount intending to "BREAK" him, but he was prepared -- he asked the amount, drew forth a large box filled with coins and paid them off. But, they said they wanted greenbacks because all the coins would be too heavy to carry on horseback. Mr. Wampler had the last laugh -- he had obtained the coins for that very purpose. His would-be extortionists had to stay overnight and hire a wagon to haul their money home. Mr. Wampler had been forewarned.

"KI" Wampler's paper currency cropped up again in 1920 when his youngest son Asahel was a cashier at the Gosport Banking Company. He received a letter from a New Orleans resident asking if the "money" was still of any value. Asahel reasoned that his father had received par for it when issued so he replied it was worth 100 cents on the dollar although he didn't knwo how much the man had to redeem. When it arrived for payment, there was only ten dollars worth, much to Asahel's relief.
Hezekiah died in September of 1866 at the age of 61. Jane lived into her 70's dying on August 12th, 1898. They are both buried in the Gosport Cemetery where their graves are marked by "a very fine monument."

---
Sources:
Picture and Genealogical Data from Barbara S. Wampler's Book 3, page 16

Story by Dixie Kline from Barbara S. Wampler's Newsletter #7, p 9

Cemetary note by Gilbert Edwards, Barbara S. Wampler's Journal 4, p23

History "Brown and Monroe Co", as abstracted in Barbara S. Wampler Book 3, page 17-20

GILBERT & ELIZABETH HARTSOCK GODSEY web site.
---
This material is not for commercial use or sale.