The Wampler/Wampfler Family Name, Then and Now
by John E. Wampler


Section 1.1

last revised 2/12/'04
---
Origins and Etymology



The name is Swiss derived from Wandfluher which means one who comes from near Wandfluh (Sommer, 1944, & Siegenthaler, 1937, as reported by Fred Wampler, 1986). Wandfluh is a combined name (Wand = wall, fluh = steep mass of rock). The written records for the name begin in the Dietmigen Valley, high in the Bernese Alps of Switzerland ( map).

Robert Wampfler from Switzerland wrote (personal communication to Ivan J. Wampfler):

"Wampfler is a very old name. (It) comes from the Simmental, Bernese uplands (Berner Oberland). There is a little village today in the Diemtigtal (a little valley b(e)side the Simmental) This village is named Wampflen. Today (there is) an old mill and a beautiful house . The meaning of the word Wampfler is today clearly. Wampflen means 'among the Wandfluh'. The residents lived below a steep rock face. Wandfluh then changed to Wampflen and then to Wampfler."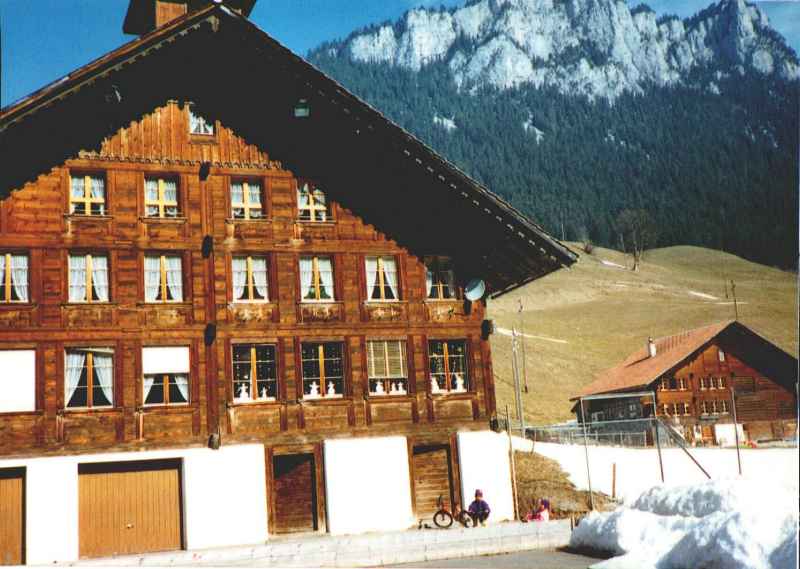 Fred Wampler (1986) also mentions Wampflen in the Bern Canton in Switzerland near the village of Diemtigen ( see Michael Wampler's photo-album). He has some pictures of the small village indicating that it had four houses (c. 1983). He says that near Wampflen is a "gigantic rising wall of rock". He found a mention of Wampflen as a place name as early as 1600 in a christening record in Diemtigen. The rock wall seen here is behind the school building as described in Fred Wampler's book (1986). The land to the right and behind the school is said to have been Wampfler land. Picture from Dr. John M. Wampler."


Another spin on the etymology is given by Hansruedi Wampfler, also of Switzerland (personal communication to John E. Wampler):

As far as I know, the name "Wampfler" is a location name, corresponding to the landscape topography: In the valley of Diemtigen, there is a place called Wampflen, where the small river seems to make a little step down (as can be guessed from the maps). In the municipality "Meilen" in the canton of Zurich at the lake of Zurich, there is a rivulet, which has a jump and this place is also called "Wampflen". A local teacher had the opinion, that this name originates from the term "Wandfluh", which means something like mass of rocks or a wall of rocks.

In a book I found another possible explanation: the alemannic or germanic terms "wam", "wem" or "wim" seem to design(ate) some sort of flowing water. In Austria for example, there is for example a city called "Wampersdorf", whose name should originate from this root "wam". The fact, that the (two) Wampflen have to do with rivulets could be a point for this argument.




In the town hall of Lenk in the Upper-Simmen Valley there is a family coat of arms in the Clerk's office for Wampfler (Wampler, 1986). The immigration of Wampfler's from the Diemtigen area to the Upper-Simmen Valley area where Lenk is located is traced to the late 16th Century.

The family branch that leads to America in the mid-eighteenth century immigrated to Sparsbach in the Alsace region ( see Michael Wampler's photo-album). Sparsbach is now in the Bas-Rhin Department of France (map). The early arrival records of the Wampfler immigrants in America indicate that they were from the German Palatinate, the region just north of Alsace along the Rhine. In his 1986 book, Fred Wampler states that "all the September 29, 1741 German speaking immigrants [were classified] as Palatines." Indeed, he traces several other Alsatian families on the same ship. Alsace was part of the Holly Roman Empire until 1648 and became French with the Treaty of Ryswick in 1697. It remained French held until annexed to Germany in 1871. It was returned to France in 1918, to Germany in 1940 and back to France in 1945. Fred Wampler (1986) reports that the people there still speak German.

The European name, Wampfler or Wampffler, was anglicized to Wampler (also Wambler, Wamler, etc.) during the first and second generations in America. Later arrivals seem to have retained the Wampfler spelling. The names of 1740's immigrants who came to America from Alsace via ship from Rotterdam to Philadelphia are found in the various records of the time with various spellings. As Fred Wampler (1986, p. 96) notes, immigration official were not careful about proper spelling and the immigrants themselves were "most anxious to use any spelling that fit better into a culture dominated by English." Strassburger (1966) publishes the records of ship's passengers for Philadelphia from that era and the carelessness of record keeping shows that Hans Peter Wampfler and his two sons were recorded variously as Wambler and Wampfler in different parts of the record for the ship Lydia in 1741. Similarly, the records for Johann Christian Wampfler and his family from the "bilander" Vernon in 1747 show spellings of Wampfler and Wampffler. Marriage records from the First Trinity Reformed Church in York County Pennsylvania from the late 1700's have a number of entries with the various spellings, Wampler, Wambler and Wampfler. In his search of Ship's records, Fred Wampler (1986) reports no other records of immigrants with similar spelling until the 1937 arrival of J. P. Wampfler and the 1845 arrival of Michael Wampfler. However, another search of other passenger list abstracts (Tepper, 1982 & 1986) reveals Daniel Wampler arriving in Philadelphia from San Salvador, Brazil, on September 17, 1818, and Jaun and Lewis Wamfler ariving from Germany at the Port of Baltimore on September 30, 1832. Naturalization records abstracted by Tepper (1986) also record the naturalization of Michael Wampfler from Germany in 1845.



The German Connection



There is a persistent indication of a German connection for some parts of the family. This is not just the confusion of the immigration records indicating all persons on their ships being from the Palintate, but the several family legends that mention German origins. Even Barbara S. Wampler, who researched her husband's lineage in a very thorough way could not be certain that their line linked with the 1740 immigrants. Indeed, the family history recorded by Edward Vance Wampler (Barbara S. Wampler, Newsletter 6 and "letter to Don") gives considerable detail about a lineage originating in this country with the 1708-09 immigration of a Nathanial Wampler, an officer in the German Army. Cushing (1975) in his bio of Wamplers of Allegheny County Pennsylvania indicates that their ancestor was a German immigrant named Jacob. There are a few Wamplers and Wampflers in Germany today. However, the frequency of the names Wampler and Wampfler in Germany is very low (see below). It is greater in France, particularly in Alsace, and much greater in Switzerland. However, since Swiss mercenaries (see article) fought throughout Europe in the 17th and 18th centuries and in the American revolution, the question of some branches of the Wamplers in America being descended from German as distinct from Alsatian and Swiss ancestors must be left open.



Where Are They Now?



Wampfler is still a common surname in Switzerland. A white page search at http://switchetv.switch.ch/ (2001) gave 300 listings (note, this search engine has changed since then). A search with http://www.directories.ch/whitepages/index.aspx shows the distribution of the Wampfler surname is fairly uniform throughout the country. Interestingly, this same search for the surname Wampler gives only one entry.

With a 2000 estimated population of about 7 million, assuming each listing represents an average of 2 people with the Wampfler surname, the frequency must be a bit less than 0.01% in Switzerland. This would make Wampfler somewhat more prevalent in Switzerland than is Wampler in the USA (0.003% as discussed below).

A search of the Bas-Rhin Department of France in 2001 using http://www.epita.fr:5000/11/english.html the French Electronic Phonebook on the Web gave 13 listings for the Wampfler surname. A search of http://www.pagesjaunes.fr (2004) gave 12 listing of Wampfler in Alsace. This is by far the most listings of any region with a total found for France of 29. The Yahoo Factbook gives the population of France at 59 million (estimated for July 2000) making the frequency of the Wampfler surname something like 0.0001% using the assumption of 2 people for every phone listing.

The German White Pages search at http://www.teleauskunft.de/ gave 25 listings, but only 12 were individuals (the rest being for the large multinational firm, Wampfler AG). Four listings for Wampler were also found, each with seemingly non-germanic given names. With a German population around 82 million, the Wampfler/Wampler surname occurs with a very low frequency in Germany (<0.00005%).

Of the various spellings, Wampler is by far the most predominant in America. The white pages survey map for the "Wampler" surname generated by Hamrick Software shows the name most common in Virginia and Indiana (1:1000), then Missouri and Tennessee followed by Ohio, Arkansas, Kansas, North Dekota and Oregon. Using the surname search of the U.S. Census Bureau, the name Wampler is ranked 4,259 th in frequency out of 88,799 names (or 0.003% of the surnames listed). None of the other variants are listed.

Yahoo White Pages and E-mail searches for the variants of the surname list the following numbers of listings (1996):

            Variant...White Pages....e-mail
            Wampler    4058          133
            Wampfler     79            5       
            Wompler       3            0       
            Wambler       0            0       
            Wamfler       0            0       
            Wombler       0            0
 

Sources:

T. Cushing (1975) "A Genealogical and Biographical History of Allegheny County, Pennsylvania," Genealogical Publishing Co., Inc., Baltimore, Md.

Niklaus Siegenthaler (1937), "Bilder aus der Geschichte de Obersimmentals," Verlag E. Blessing, Zweisimmen.

Hans Sommer (1944), Kleine Namekunde, Verlag Paul Haupt, Bern.

Ralph B. Strassburger (1966), "Pennsylvania German Pioneers," Genealogical Publishing Co., Baltimore (3 volumes).

Fred B. Wampler (1986), "Wampfler (Wampler) Family History, The 1500's-1700's", privately published, Santa Fe, New Mexico.

Michael Tepper (1982), "Passenger Arrivals at the Port of Baltimore, 1820-1834," Genealogical Publishing Co., Baltimore.

Michael Tepper (1986), "Passenger Arrivals at the Port of Philadelphia, 1800-1819," Genealogical Publishing Co., Baltimore.

Barbara S. Wampler (1977), "Letter to Don, February 24, 1977" from the files of Terry L. Wampler

Barbara S. Wampler (1979), "Wampler Ancestors and Descendents in America," Newsletter #6, Barbara S. Wampler, 310 Thayer Ave., Joliet, IL 60432

Hansruedi Wampfler (Switzerland), text of e-mail message to John E. Wampler (wampler@bchiris.bmb.uga.edu).

Robert Wampfler (Switzerland), text of e-mail message to Ivan Wampfler (71324.544@compuserve.com).

---
This material is not for commercial use or sale.