The Puzzle of Eva Wampler, Revisited
by John E. Wampler

Section 1.5.c

Revised 9/26/2011
---
Over the last three years, several genealogists who have done many years of research on the Eve Wampler Kinsey story have sent additional information following our publication of The Puzzle of Eva Wampler. J. Derald Morgan sent his original copy of the traditional story along with his analysis of it. John MacPhee has sent several messages summarizing his findings concerning the records of Eve and Henry Kinsey (Misc. Related Records, A Summary of land records and Concerning Jacob Wolf's military service). David Kinsie, publisher of the The Kinsey/Kinzie Newsletter, has provided some data on the several Henry Kinsey's of Pennsylvania, Maryland and Virginia during the critical period. Sharon Mills sent a summary of the Chancery Court filing of David Wampler mentioned by Mr. MacPhee (see item 4 of John MacPhee's e-mail and editor's note there). Also pertinent to this discussion are the will of Peter Wampler probated in 1792 in Frederick Maryland, that of his wife Barbara probated in 1800 in Frederick Maryland and a new puzzle page concerning The Tracks of Peter Wampler.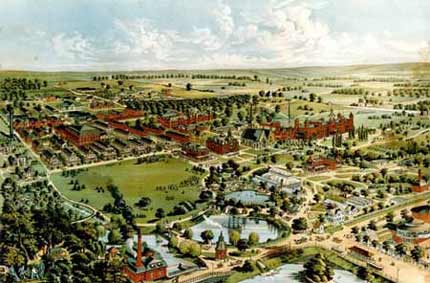 The Eva of the traditional stories was the daughter of Peter Wampler and married a man named Henry Kinsey (or Kincey or Kinzey). She was abducted by Indians at an early age and returned to her parents as a teenager. Eva died in 1821 reportedly at the age of 83 and was buried on a knoll near the old Deer Lodge at the National Soldiers Home, Dayton Ohio, where her husband Henry Kinsey was also buried. Land records support that this property was originally owned by the Kinsey's and Jacob Wolf, husband of their daughter Hannah. Carol Burn's page on The National Military Home has pictures of some of the locations in this story and some information on its history.
One possible path to Eva's past leads to a will of Peter Wampler from Frederick County Maryland in 1792. Here, in Peter's will is the name of a married daughter Eve Kincey. This will lists other children of Peter, including Daniel and David Wampler who later moved to the Dayton Ohio area where Eve and Henry Kinsey settled as did Peter's daughter Cristina Wampler Grabael. In September of 1802, David who received much less in his father's will than his other siblings, filed a complaint in Chancery Court, Frederick Co., MD against the other heirs specifically listing Eve as the wife of Henry Kinzey.
The Grabael's and the Wamplers who moved to Montgomery County Ohio were Dunkers by faith (German Baptist Brethren or Tunkers). It is likely that Eve (Eva) and Henry were Dunkers as were other members of both of their families. This common religion adds some support to the idea that Eve's father Peter came to Maryland from Pennsylvania, having been baptized into the Conestoga Congregation of the German Baptist Brethren on April 14, 1754. Near that same time, his first wife Barbara "was killed under a tree." Soon after (around October 1, 1756) four children of Peter Wampler were taken by Indians. With the treaty ending the French and Indian war in 1764 many captives were returned to their families. Separate traditional stories say that the both Christina and Eve were among these returnees.
The Brethren Church connection helps us postulate some solutions to a couple of problems with the traditional story. One is how an Eve of Pennsylvania and Maryland married a Kinsey of Virginia. The Dunkards did not believe in marriage outside of their faith. The surnames of Peter's other daughter's husbands-- GRABEAL, ENGLAR, HARTMAN, WARD, TURNER-- and his son's wives-- ENGLAR, BEHR, GARBER-- are commonly found in the early history of the Dunkers and many of these same names are found repeatedly in the Hans Peter line (a common situation when small populations intermarried). Another aspect of the Brethren church that might help with part of Eve's puzzle is the annual meetings, many of which were held by Conestoga Congregation during the years when Peter was a member. This might explain the meeting and marriage of a Virginia member (Henry Kinsey) and a Pennsylvanian (Eve Wampler). In the article describing annual meetings, the Brethren Encyclopedia says it was here where "new friendships [were] made and many first date ...led to marriage." In the early church, marriages were often arranged with the help of the church deacons.
Thus, merging lines follow the tracks of these related families to Montgomery County Ohio and suggest that the Eve of the story was the daughter of Peter Wampler whose will was recorded in Maryland in 1792. The Tracks of Peter Wampler suggest that this Peter Wampler is Hans Peter Wampler Jr. who came to Pennsylvania to Alsace in 1741. He lived in Pennsylvania during the Indian Wars of frontier Pennsylvania suffering both the death of his wife and abduction of his children. It is supposed that Eve was returned to her parents in the settlement of 1764-65 when "300 white prisoners were released." While these data are consistent in part with the traditional Eve story, the dates and ages do not correlate. If Eve was 83 in 1821 at her death, she would have been born around 1738, taken by Indians at the age of 19 or so and returned when she was 26. This is blatantly inconsistent with her being taken at the age of seven, returned as a teenager and married to Henry at 23. On the other hand, if she was born around 1749, she was abducted at 7 (1756), returned around 1765 and married about 1772. This would make her only 72 years old at her death.
Another problem with the Eve traditional store is more easily reconciled. As pointed out by several researchers, the idea of her being descended from "early Holland" immigrants is not really a problem. The ship that Hans Peter and his family emigrated on contained families from several parts of German speaking Europe and the voyage started in Rotterdam, Holland. The Pennsylvania Dutch were a mix of a variety of German speaking peoples (see the emigrants page). On-the-other-hand, if we want to believe the content of the traditional story, it might easily be supposed that a Wampfler from Switzerland settled in Holland when the Dutch opened their land to persecuted Swiss Anabaptists in the 17th century.
The Virginia linkage might be explained by the Brethren Annual meetings as speculated above. John MacPhee has documented land records of Henry and Eva Kinsey of Montgomery County, OH, and Franklin County, VA. In the time from 1784 until 1809, Henry Kinsey (sometimes listed with his wife as Eve and sometimes as Mary) bought and sold land in Franklin County, VA. The deed records clearly establish that the Henry Kinsey of Montgomery County Ohio owned land over a considerable period in Franklin County, VA, and paid taxes on that land after moving to Ohio. One might argue that Eve moved to Maryland with her father in 1770, married Henry either in Maryland or Pennsylvania around 1772, moved to Virginia with her husband around 1784 and finally to Ohio around the turn of the century.
---
This material is not for commercial use or sale.